Play Now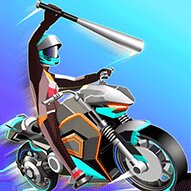 In Motor Rush, get ready to put the pedal to the metal! A race unlike anything you have ever seen before awaits you. Featuring nice 2D graphics and fun gameplay, this game will challenge you to channel both your inner fast addict and dark side. Do you think you will be able to reach the end of each level alive?
In the dangerous streets of the city, a new race is about to begin. Forget everything you know about the bike races. This race isn't about who the fastest is. Sure, you need to drive fast, but you also need violence if you want to become the winner. Aim well and take down every other racer. They may be faster than you or maybe not. The only thing that matters is getting rid of every person that stands between you winning. Your objective is to become the first racer to reach the finish line. To control the character, you can use the left mouse button. Press on the screen and swipe left and right to move. You can see your place in the ranking and how far away the finish line is by looking at the top of the screen. To stop the other players from reaching there before you do, pick up the weapons on the road. If you pick up close-range weapons, get close enough to your opponents to hit them. Keep in mind that they can hit you too, so be careful and keep an eye on your health bar. Have fun!
If you want to play more games like this one, check out our collection of online racing games. Enjoy!
Developer
BPTop developed Motor Rush.
Release Date
May 19, 2021
Features
Tasks to complete
Many challenging levels
Many different locations to race through
Fun and addictive gameplay
Controls
You can use your mouse to play this game.