Play Now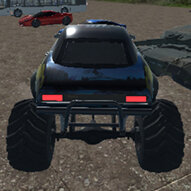 Vehicles Simulator is here to save you if you need to drive alone and relieve your stress! On top of that, you can select any vehicle among various amazing ones! Are you excited to drive on empty roads? Have fun!
Choose a car, fasten your seatbelt, and go for a ride! Your dreams are coming true today! You have a chance to select your own vehicle and drive around the city freely! Have you ever wondered how it would be driving a bus or a tank? If you have, you are in the right place, my friend! Let's jump into the game and drive like crazy! You have 3 different track options to choose from, you can drive in the city, in the desert, or in the industrial zone. There is no objective to reach in this game, you will just drive as you wish. You can choose among 7 vehicles to drive: truck, city bus, sports car, sedan, tank, military 8x8, and monster truck. You just need to click on the V to enter a vehicle. You can use your arrow keys or WASD keys to move the vehicle. The control is all on yours! You can customize the settings of the vehicles too! You can the engine, transmission, steering, axle and so on! Are you ready to drive like crazy in this empty town? Have fun playing!
If you want to play more car games, and try another one similar to Vehicles Simulator, then be sure to check City Car Stunt 4, too.
Developer
JulGames developed Vehicles Simulator.
Release Date
October 22, 2018
Features
3D amazing graphics
7 vehicles to choose
No levels to pass
Entertaining gameplay
Controls
You can use your arrow keys or WASD keys to drive, C to change the camera, V to enter the vehicle, and space bar for handbrake.