Play Now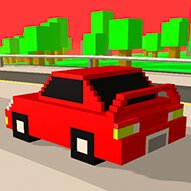 Challenge your driving reflexes on a never-ending highway with Crashy racing! Dodge other cars, pick up yellow boxes, and watch out for unstable drivers that change road lanes without any warning! Master the art of surviving through road rages, and unlock and try all twenty-seven unique and stylish car models!
Live life out on a 3D pixel road swarmed with drivers with no common sense. You have no starting point and no destination; just an endless road with records to break! Brakes are not an option; there is no way of stopping your car without a crash, so all you can do is dodge everything on your way, pick up boxes, and survive for as long as possible. Also, remember that there is no chance of survival in a car crash because your vehicle jumps meters into the air every time you touch another car. Keep dodging like a champion, as your life depends on it. Set goals and break new records to reach them. Check out the game shop and unlock all 27 cars to try out every style. Enjoy the sunny weather and extreme crashing effects with your favorite car, and rule the streets!
If you like using your timing skills on roads, you can check out Stunt Extreme and try your chance in bike races!
Developer
Rokito Games developed Crashy Racing.
Release Date
March 25, 2022
Features
Colorful 3D graphics
Vivid pixel theme
Easy to play
27 unlockable car skins
Available on mobile devices
Controls
You can use the right and left arrow keys to play this game.