Play Now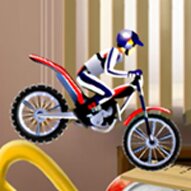 Bike Mania is back with its 4th version, Micro Office! You'll be tempted to have "only one more try!" because of the game's challenging and addictive gameplay! Are you ready to get on your bicycle and go on an adventure? Have fun and good luck, my friend!
Anyone who doesn't like cycling? We thought so too! This time we are going on a crazy adventure! You will ride your bike on a micro-office, among office items! If you feel ready for this amazing adventure, click on the big play button, and start the game right away! Your objective is to move on until you crash into something. You should get the highest score without crashing anything and move on to the next level. You can use the arrow keys to control your bike. Be careful! If you press the up arrow too much and accelerate more than enough you can tumble down! Take care to lean your rider to the left or right to pass the obstacles safely. Multiple levels are waiting for you here in this game! You can see the level number, your time, and your score at the top of the screen. Ride, stunt, and have fun!
If you want to play more bike games, and try another one similar to Bike Mania 4 Micro Office, then be sure to check BMX Rider Bicycle Stunt, too.
Developer
AceViral.com LTD Bike Mania 4 Micro Office.
Release Date
April 13, 2021
Features
Exciting gameplay
Multiple levels to complete
Entertaining and challenging gameplay
2D colorful graphics
Controls
You can use your arrow keys to play this game.