Play Now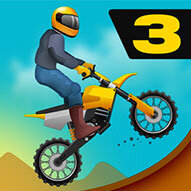 Get ready for the ride of your life because things are just starting to get interesting in Bike Racing 3. Different types of terrain, vehicles that specifically work well on them, endless upgrades, and a challenge you bring on your own records. Here, only work to get better. Sure, better bikes with stronger equipment might help too.
You have two buttons on the screen: gas and brakes. Speed is not the main issue here as you should react to the ground shapes and work with them. Keep an eye on your fuel though, running out of gas can end everything. You can collect coins on your way and upgrade everything about your bike: fuel capacity, tires, engine, and stability. They are all essential in your ride. As riding further gets easier, you will start getting more and more coins from these runs which will help you open new maps and bikes that make the ride especially easier on them. When you unlock a new bike for your new map do not forget to upgrade it too because you would not believe the difference these upgrades can make! Explore new climates and conquer them all with your bike.
If you like racing games like this, you can check our racing category by clicking here.
Developer
SOFTGAMES – Mobile Entertainment Services GmbH developed Bike Racing 3.
Release Date
November 25, 2021
Features
Colorful 2D graphics
Rewarding in-game wealth system
Addictive and fun gameplay
Available on mobile devices
Controls
You can use your mouse to click on the pedals to move.