Play Now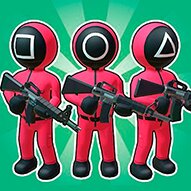 The challenges of the squid game await you in Squid Game 2! A series of increasingly serious and difficult games are here. You need to win all of them to survive and have a better future! Now, get ready to have the best strategies in these games and try to win each of them!
In this game, you will be given a series of challenging games. You should win each one of them by playing according to the rules. When you win each game, you will have more and more money. You can use that money to upgrade your bunk bed. But more importantly, winning new games makes you go on the challenge. You will have the honeycomb challenge, red light-green light challenge, hide and seek challenge, glass floor challenge. Following these, you will have a marathon where you should run to be the winner while running away from the lasers. Finally in the flip challenge where you will throw the paper to turn the one on the floor upside down and then slap the man in the face if you achieve this. Don't forget that you'll be racing against real-time rivals in this game! If you can achieve all the levels consecutively, you will earn money, upgrade your bunk bed and see the upper levels!
If you enjoyed Squid Game 2, you should check out Aquapark.io to experience more gameplay to challenge real-time rivals!
Developer
OneTwoPlay BV developed Squid Game 2.
Release Date
December 02, 2021
Features
3D colorful graphics
Multiple rounds
Various challenging games to complete
io gaming experience with real-time players
Intuitive controls
Controls
You can use the mouse and/or the arrow keys to command your character.