Play Now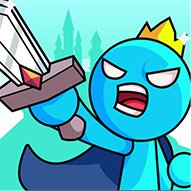 In Stick Clash Online, it is time to show off your warrior skills! Your land is under attack! The enemy is about to invade your land! You cannot find liberation without defeating all of them! You are the only leader who can defeat the enemy right now! So, gird yourself with a sword and show up on the battlefield! Good luck!
'' The battlefield is a scene of constant chaos. The winner will be the one who controls that chaos, both his own and the enemies'' once said. And now it's your turn to control the chaos! A good battle commander should be brave enough to face their enemies while also being smart enough to know when to attack. You'll need more than a sharp sword to defeat your enemies. In this game, having a smart mind leads to victory. Create a solid strategy to drive your opponents to their knees. You can see a number over your character's head. To defeat enemies, go for those with a smaller number. They'll join your army if you defeat them. To complete each level, defeat all of the soldiers and bosses. Every move you make is crucial. To win, make sure you make the correct decisions at the right time. Remember that you can't go back to a location where you've already been. The only road forward is onward. Good luck there!
If you liked Stick Clash Online, to check our collection of free and online action games, click here!
Developer
kiz10.com developed Stick Clash Online.
Release Date
June 11, 2021
Features
New skins to unlock
Colorful 2D graphics
Intuitive controls
Fun and addictive gameplay
Controls
You can use your mouse to play this game.