Play Now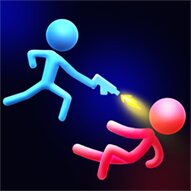 Jump into a glowing and thrilling story of stickmen fights with Stickman Temple Duel! With a friend or against a bot: this challenge offers an exciting adventure and quick deathmatches to test your reflexes and fighting skills under stress! Prepare your plasma gun and choose your side; will you build up the courage to dive into the story or stay for the quick challenges and learn the mechanics?
Welcome to the land of stickmen; here we have neon and aggressive people with guns that shoot laser beams! We also have hidden traps and contraptions that you can use to destroy your enemies, if you can detect them first, of course! Falling ground, raining spears, hidden stakes; everything in this world is waiting for your next mistake to hunt you! Luckily, we have checkpoints that you can revive at without having to run all the way from the start! Move carefully toward the end of the area, open your eyes to threats and armed enemies, and use the traps that were built for you against your foes! Get ready to fail, learn from your mistakes, and come back even stronger! Invite your friends to survival matches and multiply the fun!
If you like stickman matches, you can check out Stickman Archer 2!
Developer
Hihoy developed Stickman Temple Duel.
Release Date
June 2, 2022
Features
Colorful 2D graphics
Neon theme
Two game modes
1P and 2P options
Controls
In story mode, use "W, A, S, D" to move and the mouse to shoot. In 2P mode, Player 1 can use the arrow keys to move, "L" to shoot, and "K" to block, while Player 2 can use "W, A, S, D" to move, "F" to shoot, and "G" to block.