Fireboy and Watergirl: The Crystal Temple
Play Now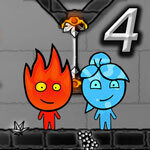 In Fireboy & Watergirl 4: The Crystal Temple, the popular duo found another temple to explore, and they need your help once again. With many challenging levels and obstacles on their way, this elemental couple has to do their best to uncover the secrets hidden in the depths of the temple. Can you lend them your hand on their fourth adventure, and join them on this adventure?
These two adventurers manage to find danger wherever they go, and they always find themselves in need of help. Luckily, you're here to help them. Your objective in this game is to complete each level by taking both characters to the doors at the end. To start the game, click on the play button on the main menu. Next, you can choose a level. There are lots of levels to complete, so get ready for a long journey. Just like the other titles of the series, you can either play alone by controlling both characters yourself or call a friend and play together. Different from the previous temples, the Crystal Temple has portals in it. If you enter from the black side, you'll exit from the black side of the connected portal. The same applies to white sides too! Keep the characters away from their opposite elements, and try to collect all the gems. Enjoy!
For more games like this, be sure to check our collection of action games. You can play for free and online at Yepi! Have fun!
Developer
Azerion developed Fireboy & Watergirl 4: The Crystal Temple.
Release Date
October 31, 2018
Features
Multiple levels to complete
Can control two characters at once
Entertaining gameplay
Intuitive controls
Controls
Use your arrow keys to control Fireboy. Use WASD keys to control Watergirl.