Play Now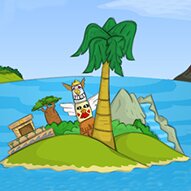 Build a new life in Oceania! Open your eyes to another life on a deserted island, learn your way around, and meet the natives to make friends! Start small and adapt to your new life! Start farming, log in every day for bonuses, and tend to your farm to survive!
You can leave everything behind and start a new life on this island! In addition to the calming nature and friendly natives, you can use this chance to improve your crafting and survival skills. But first, you must build yourself a new character. Choose your gender and take a look at the face, clothing, and hair options. Don't be afraid to get creative; you can be whoever you want here! Now, start collecting bushes and rocks as the tutorial asks you to. Bring the materials together in your bag and craft an axe. You can use it to chop trees and get some wood. Run your cursor along the screen to pick up the fallen materials. Click on the objects you want to interact with, and fix or use them. You can also invite your friends to this world and go visit their farms daily to help them!
If you like this social farming game, you can check out Farm Day Village Farming Game and keep farming in another world while your crops here are waiting!
Developer
Draugiem, SIA developed Oceania.
Release Date
August 29, 2022
Features
Daily bonuses
Nice and helping tutorials
Cute characters
Addictive crafting system
Colorful 2D graphics
Multiplayer features
Controls
You can use your mouse to play this game.