Fireboy and Watergirl: The Ice Temple
Play Now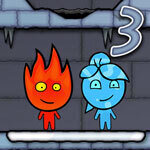 In Fireboy & Watergirl 3: The Ice Temple, the elemental duo has found a temple for the 3rd time, but this time it's a bit cold in there. Filled with ice and hidden secrets, the main characters of this game needs your help to explore the multiple levels of this game. Get ready to delve into the depth of this temple in the 3rd adventure of them, and uncover the secrets!
As seasoned adventurers, Fireboy and Watergirl know their way around in such temples. But sometimes, a little help is all they need to unlock the door to the next level. Similar to the other titles of this popular series, your objective in this game is to complete each level by taking the characters to the doors. Each level is filled with various puzzles that you need to solve to clear the way for them. You'll encounter ice on each level. Both characters can walk on the ice, but Fireboy slides on the ice while Wategirl's speed is reduced. You can freeze water or melt the ice by using mirrors and light beams. You can play the game by yourself or with a friend by sharing your keyboard, as each character has a different set of controls. Collect all the gems and make sure both adventurers survive the many levels of the game! Enjoy!
Do you like to challenge yourself? Then visit our collection of free puzzle games by clicking here. Have fun playing!
Developer
Azerion developed Fireboy & Watergirl 3: The Ice Temple.
Release Date
September 5, 2018
Features
Colorful 2D graphics
Lots of levels to complete
Solo and 2 player gameplay option
Entertaining and addictive gameplay
Intuitive controls
Controls
Use your arrow keys to control Fireboy. Use WASD keys to control Watergirl.