Play Now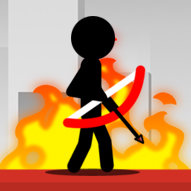 In Stickman Archer 2, the time to prove your talent in marksmanship has arrived! Grab your bow and arrow, fill your quiver with the sharpest arrow, and get ready to fight your enemies. Do you have what it takes to make each your shots count?
Your objective in this game is to defeat as many enemies as you can to earn a high score. Being a talented archer requires lots of training in real life, but with the simple controls of this game, none could stop you. Click on the play button on the main menu to start the game. Click and hold the left mouse button on the scren, and drag your cursor to adjust the aim and the power of your shot. You can see the health bar of your enemies beneath them. Headshots kill an enemy instantly, so try to aim for their heads. Your rival will try to kill you as well! You can't block their attacks, so it's best to kill them before they defeat you. Killing an enemy gives you points and stars. These stars can be used to unlock new character skins and areas. Have fun!
Join this character in another adventure to defeat bad guys in Stickman Shooter 2. Click here to start playing now. Enjoy!
Developer
kiz10 & TapTap developed Stickman Archer 2.
Release Date
September 11, 2017
Features
6 different bows styles you can unlock and use
4 different areas to unlock
Colorful 2D graphics
Entertaining and addictive gameplay
Intuitive controls
Controls
You can play this game with your mouse or with your finger on mobile.