Play Now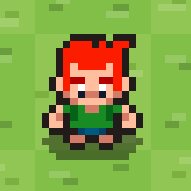 With Stone Smacker, you are about to jump into a fascinating adventure full of stones! This little redhead is up to something very big. He intends to find all the treasure chests in the forest and hand them to the villagers. In this mission, he needs your help too. Can you help him to throw the stones into the holes to clear the area and get the chest? If so, let the game begin now!
Stone Smacker is a fantastic adventure game where you need to show off your puzzle-solving skills. You are controlling a little redhead who pretends to be the Robin Hood. You are in a big forest full of treasure chests. What you are going to do is to find all these treasure chests with our redhead and give them to the villagers. Use the WASD keys to move your character and press on the SPACE BAR to attack. You can destroy the branches and bushes but not the stones. There are big black holes in the forest, and you must pass on them to find your way to the chests. Use your sword, push the stones on the holes and move on. You may need to use strategies to push the stones to the correct places. We are sure you can handle it well, though! Good luck now and have fun playing!
If you are up for another fascinating adventure with this popular blue hedgehog, then be sure to check Wings Rush and find yourself into one of the runniest adventures in this platform!
Developer
JM Neto Game Dev developed Stone Smacker.
Release Date
July 8, 2021
Features
2D colorful and pixelated graphics
Several levels to complete
Intuitive controls
Fun and engaging gameplay
Controls
Use the WASD keys to move around and the SPACE BAR to attack.