Play Now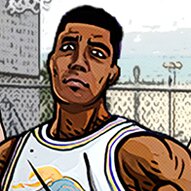 Dive into the underground world of basketball in Street Basketball! You and your bunch of friends make the coolest gang in the city, and you have a great interest as a group. You all can rock the basketball field. So, get down to the field and show everyone how good of a basketball player you are!
In this fun skill game, you can choose your favorite player to play as. If you wish, you can also play as each one of the characters in order. Your aim in this game is to show your free throw skills. This means you will spend some fun time playing around having free throws. As easy as it seems, free throws are of great importance in basketball. To show your core skills, you need to have great free shots in the basketball world. So now, get your hands on the ball and try to have the best shots. You can use your space key or the left-click to aim. When aiming at the basketball hoop, you will need to stop the ball right in the middle of the horizontal and vertical lines where the ball moves fast. You will have one minute and 25 shots in this period. If you successfully shoot the basketball, you will get one point for the classic ball and two points for the striped ball! Now, get there and try to get as many points as you can!
If you enjoyed playing Street Basketball, you should check out Basketball Stars next! Have fun playing.
Developer
Code This Lab developed Street Basketball.
Release Date
September 29, 2021
Features
Realistic colorful graphics
Multiple levels
Intuitive controls
Balls to unlock
Challenging gameplay
Various characters
Controls
You can use the space key or the left-click to throw the balls.