Play Now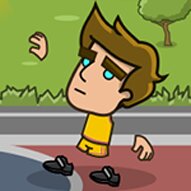 In Street Dunk, prepare to put your physical skills to the greatest challenge while having a great time! Basketball has never had such a high level of excitement. To make amazing shots, you don't need to practice outside or stretch your legs! All you have to do is sit in front of the computer and rely on your hand-eye coordination. You have the opportunity to become the new star of this fantastic branch! Let's get this party started if you're ready! Good luck!
Dr. James Naismith invented basketball as we know it today in Springfield, Massachusetts, to keep young players fit during the winter months. Naismith worked at the YMCA International Training School in Springfield, Massachusetts, as a physical education instructor. Naismith was instructed by his boss to design an indoor sports game to assist players to stay in condition over the winter. The goal of the game was to throw the basketball into the fruit baskets attached to the gym balcony's lower railing and it became the basketball we play today. Your goal in this game is to shoot a basket while avoiding all of the obstacles in your way. Obstacles might be simple walls or trees, but they can also be ambitious opponents waiting for you to drop the ball. To play this game, use your mouse. To change the angle, first left click and then drag the mouse. To calculate the angle and the distance, you will see little white dots. Have fun playing!
Do you want to play more games like this one? If so, take the different challenges in our collection of free and online sports games.
Developer
QkyGames developed Street Dunk.
Release Date
July 21, 2021
Features
2D colorful graphics
Several levels to complete
Simple controls
Casual gameplay with fun content
Controls
You can use your mouse or touch controls to play this game.