Play Now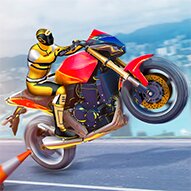 Challenge your biking skills with impossible underwater missions, short-distance obstacle courses, and races with Stunt Biker 3D! Enjoy amazing 3D views and a realistic biking experience on extreme parkour platforms! Earn money by completing missions and races, change your biker gear and motorcycle, and find your style in this deadly sport!
You can change your graphics options from settings before starting. After clicking on start, you will be directed to a page that displays your rider and bike, with upgradable features next to them. Later when you have earned enough, you can come back here to upgrade your bike's engine, brakes, and tyres. Also, you can see the statistics tab that shows your in-game records and statistics on the right. This screen allows you to change your character's skin and bike too. Let's move ahead and choose a game mode to play. Here you have Impossible, Challenge, and Racing options. The impossible mode has extreme parkour tracks including underwater roads and requires you to finish them in a limited time. Challenge mode has ten levels with difficult natural obstacles. And finally, the racing mode gives you an opponent on relatively easier tracks and requires you to reach the finish line before them for a victory. Complete all modes, unlock the best bike, and master your riding skills under the most extreme conditions!
If you like competition, you can check our Racing Games category by clicking here.
Developer
Great Games developed Stunt Biker 3D.
Release Date
April 12, 2022
Features
Incredible 3D graphics
Realistic riding experience
Easy to play
Unlockable content
Controls
You can use the arrow keys to move, shift for nitro, and the spacebar for brakes.