Play Now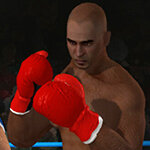 In Super Boxing Fight Night, grab your boxing gloves and get ready to face your opponents on the boxing ring. The crowd is cheering, and your trainer is watching you closely. Fly like a butterfly and sting like a bee as you defeat your rival, and become the champion! Do you have what it takes to withstand the persistent attacks of your opponents?
It's time to show everyone that you're the best out there! The main objective of this game is not very different from real-life boxing. You try to beat your opponent on each round to become the champion. Boxers have to undergo a series of serious and intense training programs, but you don't need that in this game. All you need is your mouse to throw your punches! To start the game, click on the play button on the main menu. When you start the game, you can see your opponent's and your health bar at the top of the screen. Each match lasts for 3 minutes. Clicking on the left or the right side of the screen makes you punch your rival. Be careful though! They'll also attack. You can block their strikes by clicking and holding your mouse at the center of the screen. You can't stay this way for long, so try to plan carefully. When you win all the rounds, you'll become the champion. Have fun!
Do you want to play a similar game? Become a ruthless warrior in our popular game, Samurai Fighter. Enjoy!
Developer
MarketJS developed Super Boxing Fight Night.
Release Date
June 3, 2019
Features
Colorful graphics
Intuitive controls
Entertaining gameplay
Solo gameplay
Controls
You can use your mouse to play this game.