Play Now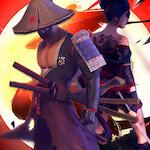 In Samurai Fighter, take control of a fierce and swift warrior trained in ancient techniques and get ready to defeat your enemies. With sword and might, no one can stand in your way. Use your amazing moves to defend yourself and inflict damage upon your foes to show them none can best you in combat. Can you make your enemies regret facing you?
The view of you standing still before your defeated enemies is enough to give second thoughts anyone daring to challenge you. Featuring 3D graphics, we're sure you can see the terror in the face of your would-be opponents when you enter the arena. Your objective in this game is to complete each level by defeating waves of enemies. When you start the game, you can select one of the two characters as you warrior. Each has different stats, so pick the one that suits you best. Use your arrow keys to move your character, and press the Z and the X key to attack. You can block the attacks with the C key. When you destroy a crate, you have a chance to find a weapon. When near a weapon, press the Z key to equip it. You can find different weapon types from swords to guns Good luck!
Having fun? Visit our collection of free and online action games by clicking here. Have fun playing.
Features
2 different characters to choose
3D graphics
Various enemies to fight against
Entertaining combat mechanics
Controls
Use the arrow keys to move. Use the Z or X keys to attack and the C key to block. Press the Z key to pick up a weapon when you are near one.