Superhero.io 2 Chaos Giant
Play Now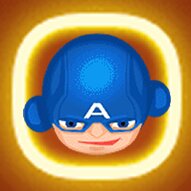 Unlock your favorite superheroes and villains, and attack other players in a free-for-all arena with Superhero.io 2 Chaos Giant! Get daily tasks, earn rewards by logging in every day, and stop by the lucky spin for extra prizes! Unlock all characters and show off your collection to gamers all around the world!
Become a superhero and step into a portal to a gigantic arena. There are no allies, no backup, no support; it's just you and your weapons. As everyone on the platform has superhuman powers, you are not exactly at advantage here. Unless you come up with a tactic, of course! Everyone without a growing boost has the same attack range, so once you and an enemy are in each other's range, the first one to attack gets the point while the other is out of the game. You can move towards an enemy and bait them to get closer to have the time to land the first hit. Getting hit ends the game for you, but you can use a token to revive or continue and start over. Successful attacks and daily prizes gain you more coins you can use to revive in matches. Keep an eye on the scoreboard and climb up with strategical attacks!
If you like multiplayer deathmatches, you can check out our .io Games category by clicking here.
Developer
LoraStudio developed Superhero.io 2 Chaos Giant.
Release Date
May 9, 2022
Features
Tens of unlockable characters
Multiplayer matches
Daily rewards
Lucky spins
Available on mobile devices
Controls
You can use your mouse to play this game.