Play Now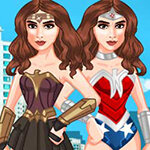 Superlady Movie welcomes you to the real-life of a superhero! Saving the world and also trying to continue your daily life as a normal citizen at the same time can be really tiring. Women with powers also meet with their boyfriends in a cafe or apply for job interviews apart from beating the enemies. Are you ready to put yourself in Wonder Woman's place now?
Daily tasks and responsibilities are difficult even for us sometimes! Can you imagine how a responsible hero can handle everything at the same time? It is okay, even if you can't because you are about to find out! Visit the places on the map and start the adventures one by one. Your first destination is the center of the city where you will fight against the evil characters. After beating them all, you can change your outfit because no one wants to stay in dirty clothes after such fights. Your second destination is your favorite cafe where you will meet your boyfriend, Superman. You should choose the best outfit to impress him! The third and final destination is in a big company where you will have a job interview in the superhero position. You should look strong, girl! After finishing all three phases, don't forget to take a photo of yourself!
If you want to recreate princesses and a bad queen this time, you can show your style by checking Tik Tok Princesses.
Developer
Dress Up Who developed this game.
Features
2D colorful graphics
3 different styles to create
3 destinations to visit
Fashion Inspiring gameplay
Controls
You can play this game with your mouse.