Play Now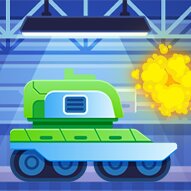 In Tanks PVP Showdown, you will enjoy the thrill of the fight with tanks! Choose your name, set your profile, and be a part of an epic battle with tanks! Can you become the winner of this competition?
This game lets you play around with a tank and shoot freely. You can begin by choosing your tank from many other vivid tanks. Upon playing through the levels, you can unlock new and better tanks with better health, mobility, and firepower for more tokens. When you jump on the battlefield for a one-on-one fight, drive as much as you like, and when you feel ready shoot a cannonball on top of your rival's tank. Let's see if you can make a good tank fighter and become the victor in this game!
If you enjoyed aiming at your enemies and achieving victory, you may also play Clash of Tanks to have more fun!
Developer
Market JS developed Tanks PVP Showdown.
Release Date
March 09, 2022
Features
2D fun graphics
Tanks to unlock
Intuitive controls
Multiplayer option and game rooms to play in
Various missions and levels
Controls
You can position your tank with the arrow keys on the screen and aim with the cursor using aim assistance. Hit the space key to shoot your enemy.