Play Now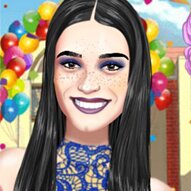 Help these three beautiful girls get ready in The Online Influencers! The most popular influencers of the internet need you to get ready for their prom night. They may be popular, but you have the fashion taste. So, will you help them be the most beautiful ones in their prom?
This relaxing game wants you to get these three girls ready for their prom night. As popular as they are, they still need approval and a little help. Make-up and what to wear... These are the two things that drive these girls crazy when there's too little left before the prom night. So, help these girls one by one. You can first start with the first girl's makeup. Choose her blusher, eyeshadow, lip-gloss, and mascara. Later, you can choose her dress among many beautiful options. You can go on to do the same for all three girls. Don't forget that when you're done, there will be a photo shoot, too!
If you want to play more games like The Online Influencers, you can check out our collection of free and online girls games here.
Developer
Unify Media Inc. developed The Online Influencers.
Release Date
September 30, 2021
Features
• 2D colorful graphics
• Influencers to dress up
• Variety of clothes and accessories
• Fun gameplay
Controls
You can use your mouse to choose options.