Play Now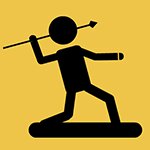 The Spear Stickman gives you the chance of becoming the best archer in the stickman world! Grab your bow and arrows to beat your opponent with a headshot. Featuring addictive mini levels and challenging stickman opponents, you won't be able to leave the screen for hours! With good eye coordination and aiming skills, no one has a chance in front of you. If you are ready, start this exciting adventure already!
Before starting the game, you should prepare all the equipment to protect your head and allow you to center! In this fun and exciting action game, your objective is to kill your opponents by shooting arrows with a correct angle before they kill you. The most successful shot is the headshot, of course! To do so, you should aim just on the head of your opponent. Drag your mouse to determine your angle. Meanwhile, your enemy will be shooting at you too! Luckily, your character is so flexible. While taking your position, you can throw off the arrows launched by your opponents. As you progress in the game, you will face more enemies at the same time. Don't forget to shoot the apples too! They will bring you extra points. When you die, you can check your successful headshots, apples that are shot, kill numbers, and progressed levels from the screen. With your earnings, you can buy items like helmets to protect your head. Good luck and have fun!
You should check our collection of free and online action games to add more excitement in your life!
Developer
QkyGames developed this game.
Release Date
July 14, 2017
Features
2D colorful graphics
Endless archery adventure to enjoy
Items to get from the in-game shop
Entertaining and addictive gameplay
Controls
You can play this game with your mouse.