Tom and Angela Insta Fashion
Play Now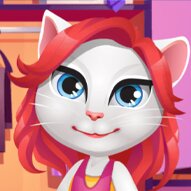 Dress the cutest couple ever for the fanciest events with Tom and Angela Insta Fashion! Match their whiskers with the trendiest hairstyles, find the best clothing combinations for their next party, and follow their moods! Memorize their wishes to keep your furry friends happy and classy in each event!
If you like dressing humans, you will love dressing everyone's favorite cat couple! With their long whiskers, bean-like paws, and curvy tails, they are ready for fashion and love! From red carpet nights to walks on the beach, these adorable celeb cats need a fashion counselor, and you can fill the spot! Tom and Angela both have the paws and looks, so you just have to find the right combinations to work with their moods. Start with a concert the couple has been waiting for and hear Angela's wishes. Check her mood carefully and close the window once you've memorized it. Now buy the items she wants from the shop and choose the same hairstyle. You can also choose something else but make sure to stay within the budget. Earn money from the successful combinations, and keep up the good work! Move on to Tom's activities and join all their memories through the diary!
If you like creating trendy dress combinations, you can check out our Girls Games to find more games like this!
Developer
iclickgames developed Tom and Angela Insta Fashion.
Release Date
June 29, 2022
Features
Family-friendly Increasing memory skills
Fun clothing and hair options
Interesting events and storyline
Available on mobile devices
Controls
You can use your mouse to play.