Play Now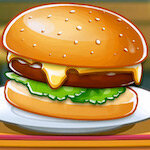 In Top Burger, you're the owner of a famous burger shop, and everyone is talking about your delicious dishes. Wear your chef's hat, get back behind the grill, and show everyone how many wonders can be placed between two burger buns. If you're ready, open the doors of your shop and be prepared to embrace the challenges of the culinary world!
Your customers are flocking to the doors of your shop to have a taste of those famous burgers. The game features 3 different game modes, each with its own objective. The first one is called the chef championship. In this mode, you try to create the most delicious burger to win a money prize. The second mode is the career mode. This mode features dozens of different levels for you to complete, and your objective is to prepare burgers for your customers according to their order. To do that, click on the ingredients in the box below in the correct order to build a burger. You start with few ingredients, but unlock more as you progress through the game. You earn stars based on your performance and can unlock other worlds when you collect enough of them. In the last mode, you can race against time to create as many burgers as you can! Good luck and keep those customers well-fed!
The kitchen is heated, and there are so many other dishes to be prepared! Head into our collection page of free and online food games for more! Have fun!
Developer
Best Games developed Top Burger.
Release Date
November 30, 2018
Features
Colorful 2D graphics
3 different world to choose
3 different game modes to try
Intuitive controls
Entertaining and addictive gameplay
Different ingredients to unlock and use
Controls
You can play this game with your mouse.