Play Now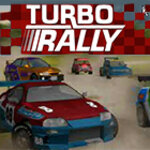 In Turbo Rally, you have the chance to show everyone that you're the fastest driver! Jump into your car, and get ready to race against your opponents in this fun and addictive game. Featuring different races, do you have what it takes to finish each race in the first place?
People are cheering and the other drivers are waiting for the signal. Start your engines and get ready to floor the gas. The objective of this game is to complete each race as fast as you can in the first place. Start by picking an area and then a vehicle. You unlock areas as you play and you can get other vehicles with the coins you earn. The race tracks before you are full of challenges. Different obstacles, other ambitious racers, and sharps turns are just a few of the things you'll have to face. In the top left corner of the screen, you can see how many stars you earn depending on your completion time. Do your best to tackle your opponents, and be first to pass the finish line every time! Good luck!
If you're looking for more challenges, then we believe you'll enjoy our other popular game, Two Punk Racing. Have fun playing!
Developer
Turbo Nuke developed Turbo Rally.
Release Date
2013
Features
Intuitive controls
Colorful graphics
6 different cars to choose from
Entertaining gameplay
Different locations to visit
Controls
You can use the arrow keys or the WASD keys to control your car. Press the C or the M keys to use your handbrakes and the X or the N key to use your speed boost.