Play Now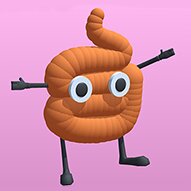 Turd Show is all you would expect from its name and a little more. It's a funny journey to the toilet, a little sketching contest, and some kind of weird cosplay competition. It's a story passed down through generations about a duel in using what you have in the most creative way; a mythical inheritance from our ancestors.
You do what you do every day; answer nature's call. But today it is going to resolve in an art contest. You are given an example of what to create above your empty sheet. There is a sketch, accessories, paint, and finally, sparkles to give it a glow. Your objective here is to copy that drawing as much as possible. Use the material carefully as it is so easy to run out of. Draw the base with fast moves and move on to the decoration. Here you have eyes, glasses, a hat, and a beanie as dressing options. You are free to decorate to your heart's desire but you should imitate the example's accessories if you want to win the contest. After you are done with the clothing, there is a crucial next step: sparkles. A little here, a little there, and done! Paint your character, and you are good to go! Now you can beat your enemies and watch them get thrown in the pool as a punishment!
If you would like to play other fun games that will improve your drawing skills, you can check out Draw This and challenge other players online!
Developer
Nevar Games developed Turd Show.
Release Date
February 16, 2022
Features
Colorful 2D graphics
Easy controls
Funny theme
Available on mobile devices
Controls
You can use your mouse to play this game.