Underwater Car Racing Simulator
Play Now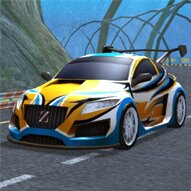 Unlock luxurious and fast racing cars, match with challenging competitors, and race on a track built underwater with Underwater Car Racing Simulator! Compete against four enemies, collect coins on the track, and try to keep your distance from others! Watch out for constructions and obstacles to avoid time penalties!
Have you ever been to a water museum? These places are built like tubes underwater to create a natural habitat for sea creatures, while giving you a chance to observe them in their home. Now imagine a tube made under the ocean. This is where the races will take place! So, grab your keys, and take your place behind the start line, because we are about to turn the heat up! Put your foot on the gas and wait for the countdown to leave your enemies behind! Steer left and right and keep your eyes on the road to avoid crashing into obstacles that appear out of nowhere. The main goal is to finish the race first but staying in the top three is enough to move on to the next match. Your victories will be rewarded with money, with which you can unlock faster and better cars at the garage. Good luck!
If you like this immersive challenge, you can check out our Racing Games to find more games like this!
Developer
PL Studio developed Underwater Car Racing Simulator.
Release Date
June 9, 2022
Features
Easy to play
Unlockable vehicles
Increasing challenge
Stunning backgrounds
Available on mobile devices
Controls
Use "W, A, S, D" to play.