Play Now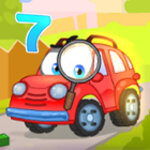 In Wheely 7 Detective, our car friend decides to be a detective! The 7th adventure of this popular game series continues to entertain with even more excitement and challenges that make you sit in front of the screen for hours of fun! This time, he is a well-known detective who is trying to solve all kinds of crimes in the car town. Can you help him do some detective work and catch the criminals by solving the puzzles?
He can be the cutest car alive in the game world, right? He is also quite smart, but sometimes he needs some assistance, especially from a person with such detective skills as you! In this fun puzzle game, your objective is to follow the clues and click on the items in the correct order to guide our friend and pass the levels. The order is very important because if you click on the objects at the wrong moment, you will fail and restart your current level. You may drag your mouse to move the objects. Before taking action, you can observe the environment a little bit because you may face some timeless tricks. Don't forget to collect the hidden objects that you can check from the right top of the game screen. You can restart the levels as many times as you want. Good luck and have fun!
Be sure to check our collection of free and online puzzle games by clicking here to discover other adventures of cute Wheely.
Developer
Pegas Games developed this game.
Release Date
March 16, 2018
Features
2D colorful graphics
Challenging mini-puzzles
15 levels to complete
Detective backstory
Controls
You can use your mouse to play this game.