Play Now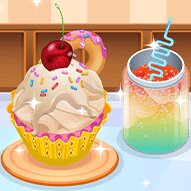 Enjoy being the greatest baker ever in Yummy Cupcake! You should be proud of yourself because you're about to start your very own cupcake business. But don't forget that opening a shop is a serious thing and you need to work hard to be successful! Are you ready for this venture?
In this game, you will have the chance to start from the very first point of what you need to have the experience to open a cupcake shop! There will be eight steps for you to get familiar with the job. These steps will lead you to be a successful baker and a cupcake shop owner. You will begin with taking care of the store, then proceed with baking the cupcakes and end up selling them to your customers. You should see every little detail from making the dough to topping the icing so that your hungry customers will be happy! Let's see if you can handle having the best shop around!
If you enjoyed baking cupcakes and selling them keeping in mind each detail, you should check out our food games to play more similar games to have more fun!
Developer
iclickgames developed Yummy Cupcake.
Release Date
January 10, 2022
Features
• 2D colorful graphics
• A plan to follow in detail
• Fun and addictive gameplay
• Both cooking and selling the cupcakes!
Controls
You can use the mouse of your computer to choose the options.