Play Now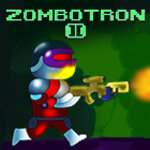 In Zombotron 2, grab your weapons and wear your armor for the 2nd time! Trying to escape from a planet filled with zombies and aliens, our character needs your help through the multiple levels of this game. Can you survive all the challenges this weird place throws at you, and return home safely?
Zombies and aliens are everywhere, and your best friend is your trusted weapon on this strange planet. The main objective of this game is to finish each level by completing missions in them. Fighting such enemies is a challenging task, but with the simple controls of the game, you can overcome anything thrown at you. To start the game, click on the play button on the main menu. Next, pick a level to play. There are 16 different levels to complete, but only the first one is available in the beginning. You can unlock the rest as you complete levels one by one. You'll face many different opponents during the game. Shoot and kill them to collect coins, ammo, and even health packs. You can use the coins to buy different items from the shop. Your health, ammo, and coin count is located in the top left corner of the screen. Complete missions and return home at once!
If you like this game, then be sure to check the first title too! Play Zombotron now! Have fun!
Developer
Armor Games developed Zombotron 2.
Features
Colorful 2D graphics
10 different achievements to earn
Intuitive controls
Entertaining gameplay
16 different levels to complete
Controls
Use the WASD keys to move around. Use your mouse to aim and shoot.