Play Now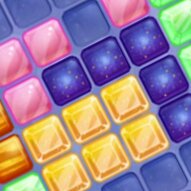 Lose yourself in the colorful world of a new Tetrix game with 10x10 Gems Deluxe. There are 100 square boxes for you to fill with different shapes. But don't get us wrong, by fill we mean not to fill the whole table, actually. It seems complicated, but you will get used to it. Are you ready to discover this fun game and complete many levels?
In this 100-square table, you are expected to fit in the shapes you will be given strategically. This means you need to get perfect columns or rows with 10 filled boxes. This will make those columns and rows pop out of their places and earn you some points. Although your goal is to get those various shapes into that table and fill the columns and rows, you need to act strategically. This is because, if you randomly place the shapes into the table, you may get out of space that you will use to fit the following shape given to you. The second the system sees that you don't have enough space to fit the following shape, you get eliminated and lose the game. So, you need to think a little first to see which shapes you will go with and where you need to put them. When you successfully get enough points and pop out all the shapes you are given, you will win the round. Now, get down to business and clear all the shapes in this puzzling 10x10 table.
If you enjoyed this fun puzzle game 10x10 Gems Deluxe, you should also check out playing Tetris Returns by clicking here.
Developer
Freak X Apps developed 10x10 Gems Deluxe.
Release Date
October 01, 2021
Features
Colorful graphics
Multiple levels to complete
Intuitive skills
Shiny tiles
Soothing game experience
Controls
You can use your mouse to choose options.