Play Now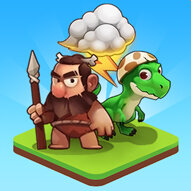 In Element Evolution, it's time to take a close look at the elements and learn more about the world we live in. The power of creation is in your hands now. With such great power, do you think you can create new elements and make this world a much more complex and extraordinary place? Let's start playing now and find out!
At first, there was nothing. There was only you and the great ideas you are going to give birth to. Are you ready to unleash your imagination and creative potential to uncover the mysteries of the elements and find new ones? If you are ready, let's start building a whole new world! Your objective is pretty simple. You need to find two of the same elements and combine them to get a higher level element. You'll start with a tiny seed, click on one of them and drag it to the other one. There! You created weed, protector, and the provider of the Earth. By merging two items like this, you'll get moss, land, cloud, tornado, thundercloud, and many more. Whenever you find a new element you'll get coins. You'll also get gems from the elements you have. You can use the blue gems to expand your land and create new stuff. Try to complete all the tasks, level up, and see all the new things you can bring to this world. Have fun!
Do you like creating new things? Then we suggest you play Doodle God by clicking here. Enjoy!
Developer
YAD.Com developed Element Evolution.
Release Date
March 05, 2021
Features
Entertaining and addictive gameplay
Intuitive controls
Colorful 2D graphics
Many elements to discover
Controls
You can use your mouse to play this game.