Play Now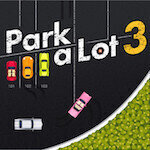 In Park a Lot 3, get ready to take control of a valet and park your customers' vehicles! Parking in real life is a boring activity. You'll never know whether you can find the perfect spot for your car or spend hours driving in the area looking for space. Luckily, there's always reserved space for the vehicles in this game!
Working as a valet is not an easy job, but you got this! Your objective in this addictive and fun game is to complete each level by parking the vehicles of your customer to the correct space. Click on the play button on the main menu to start the game. You begin each level on your foot, waiting for your first customer to arrive. When they do, the driver will exit the car, and you can see the number of parking space they claimed. Get in their car, and drive the vehicle to that place. When done, press the SPACE BAR to exit the car, and park another car. When the customer leaves the shops, they'll want their car back. Go to their vehicle and drive it to them. On the right side of the screen, you can see your timer and the target number of vehicles. You should complete your level objective before running out of time. Try not to crash the cars as this will reduce your time, so be careful!
Do you need a more challenging game to test your skills? Then you should try our other popular title Parking Jam next! Enjoy!
Features
Colorful 2D graphics
Challenging gameplay
Different cars to drive
Different locations
Controls
Use the arrow keys to control your character and drive cars. Press space bar to exit from a car.