Play Now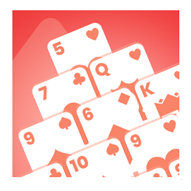 In 365 Solitaire, it's time to shuffle the cards and prove your skill in different card games. Do you consider yourself lucky, or do you believe each success story has more to do with talents rather than superstition? No matter what you think, are you ready to turn the tables in the different modes of this exciting and entertaining game?
Are you ready to break a leg? If so, let's start! Featuring different modes and card games, this game has everything you need when it comes to solitaire! To start, pick one of the 3 different modes on the main menu. The quick play mode has 12 different games that you can try. For example, to win FreeCell, you should build card suits with alternating colors. The daily challenge is here to test your skills daily, so be sure to check it every day for a new challenge! Feeling like you're ready to tackle more? Pick the wheel of seasons mode! Tap on the screen to make the wheel stop on a game, and see if you can overcome the challenge! Once you complete one, you can start the next one! Good luck!
It's your lucky day because we have another challenging game for you to try! Go ahead and try Microsoft Solitaire Collection. Have fun playing!
Developer
Agame developed 365 Solitaire.
Release Date
November 2, 2020
Features
Colorful 2D graphics
3 different modes
12 different quick play modes
Intuitive controls
Entertaining gameplay
Multiple different achievements to earn
Controls
You can use your mouse to play this game.