Play Now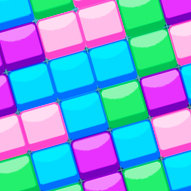 In Blockz, be ready to step in a colorful and amazing clearing out the grid themed puzzle game! This fun and brain-teasing puzzle game will test your patience and, most importantly, decision-making skills! To play this game, you should clear the grid by clicking on the colorful neon blocks and reach the goal point. But one wrong choice of removing can make you stuck. Now, let's see if you can make an ordering to clear out the whole grid!
Even the most vivid and beautiful color can make trouble sometimes! Especially in this fun puzzle game, any color cluster can give you a headache. Your objective in the game is to simply click on the same colored block clusters to remove them from the grid. The bigger the cluster is, the more points you will get. Check your target points to pass the level at the right top of the screen. In the same button, you can also see your current points. You should make a good plan to remove enough blocks and avoid running out of moves. From the bottom left corner of the screen, you can see how many points you'll earn by hovering your mouse over any cluster of blocks. Don't worry if you're stuck. You can click on the arrow icon to take your move back and the shuffle button to scramble your blocks. Have fun!
If you need more colors in your life, then be sure to check Zumba Mania by clicking here.
Developer
Agame developed Blockz.
Release Date
May 19, 2020
Features
Over 7 block colors
Multiple adventures to play
3D colorful graphics
Entertaining and addictive gameplay
Controls
You can play this game with your mouse.