Play Now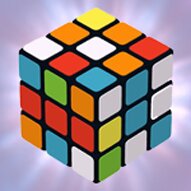 In 3D Rubik, it is time to train your brain! Is there anyone who hasn't heard of Rubik's Cubes before? We thought so too. This is a challenging puzzle game in which you must arrange the colors in a specific order. You will undoubtedly feel the greatest pleasure after you have understood the logic! So, if you're up for the challenge, go ahead and start playing!
The Rubik's Cube was created as a toy for people of all ages to enjoy while challenging themselves. Thanks to developments in technology, you may now play it for free and in 3D! It is made up of 26 tiny cubes that spin around a central axis. Each row is made up of little cubes in various colors such as white, red, blue, orange, green, and yellow. In this game, your goal is to ensure that each side of the cube contains just one color of small cubes. The same-colored squares should be ordered next to each other. You win the game when all of the sides of each are the same color. To move the rows, drag your mouse around the cube. By sliding the space around the cube, you can also turn it upside down or left to right. If you're ready to join the puzzle craze right now, click the play button! Good luck and have a good time!
If you want to play more puzzle games, and try another one similar to 3D Rubik, then be sure to check Braindom, too.
Developer
Gamesonline.co.id developed 3D Rubik.
Release Date
June 3, 2021
Features
3D colorful graphics
Time indicator to check scores
Scoring board
Fun and engaging gameplay
Controls
You can use your mouse to play this game.