Play Now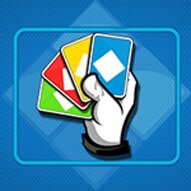 4 Colors Classic, the fun game of family and friend gatherings, is now online! Choose the difficulty by deciding the number of your opponents and beat them in this game of luck and strategy! Be careful about these randomly dealt cards; because they are not your friends!
The main objective is to be the first to get rid of all your cards. Every player starts with six random cards. There is a card in the middle, and you can put another card with the same color or the same number on it. Of course, there are some exclusive cards to stir the pot. You can add two or four cards to your enemy's deck and change the required color in the middle to lose yours fast. Some cards will give you another turn, while some will dismiss an opponent's. If you have one card left, you should click on the game symbol with the number "1" on or you will face a plus two cards penalty. If you can successfully lose that one last card, you win. Upon winning, you earn a score determined by how many turns you took, and you can get "infinity" as a score.
If you like friendly competition, you might want to try Family Clash and guess other people's answers to random questions!
Developer
QPLAZE LLC developed 4 Colors Classic.
Release Date
July 28, 2021
Features
Easy to play
Improving strategy skills
Addictive gameplay
Available on mobile devices
Controls
You can use your mouse to play this game.