Play Now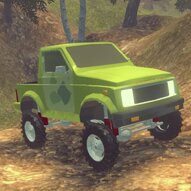 Discover the realistic offroad driving experience with the best cars with Ultimate OffRoad Cars! Explore nature and its challenging road conditions, try to reach the finish line before the time runs out, and collect as much money as you can between your destinations! Complete levels with three stars, and unlock and try new vehicles!
What you are about to experience is nothing like the racing games you have been playing. Speed is not an element here; instead, you must work on your balancing skills and master driving under the harshest conditions. The ground shape is inconsistent, and it will stay the same as you advance through the ten challenging levels. Follow the time limit stated on the top left, and keep calm while the countdown continues. Move from checkpoint to checkpoint, and try not to leave any gold coins behind. The percentage of the coins you collect will determine your score at the end of the level. Reach the finish line to move on to your next challenge. You can also try out the Free Roam mode to drive freely on an open map and face new challenges! Upgrade your car to unlock new features and overcome them!
If you like driving under challenging conditions, you can check out Island Monster Offroad and drive with a friend!
Developer
Vitalitygames.com developed Ultimate OffRoad Cars.
Release Date
June 15, 2022
Features
Realistic 3D graphics
Stunning natural backgrounds
Unlockable cars
Upgradable features
Available on mobile devices
Controls
"W, A, S, D" to move, space for brakes, X for the cable, left click for the snorkel, and "C" to pull the vehicle.