Play Now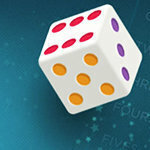 In 5Roll, it's time to roll the dices and score points. There's a sheet to be filled with high scores, so grab the dices and throw them on the screen. If you believe you have luck on your side, then let's start playing!
Your objective in this game is to get the highest-scoring combination for one of 13 different categories you see on the screen. You can play the game with your mouse, so click on the play button on the main menu to start. In the bottom left corner of the screen, you'll see the roll button. Clicking on this will make the 5 dices to roll. On the right side of the screen, you can see the scoring sheet with 13 different categories. After rolling the dices, you'll see scores appear on the sheet. You can lock one score per turn, so pick the highest one. The selected scores will be added to your total score. You can hover your cursor above the category names to get more information about them. Clicking on a dice will lock it to the slots at the bottom. You can use these feature to create different dice combinations. Good luck!
For more games to challenge yourself, be sure to check our collection of online puzzle games. Have fun playing!
Developer
Arkadium developed 5Roll.
Release Date
December 6, 2019
Features
Colorful 2D graphics
Interesting gameplay
Intuitive controls
5 different dices to roll
Controls
You can play this game with your mouse.