Play Now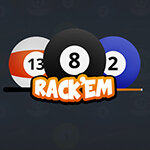 In Rack'em 8 Ball Pool, put your pool skills to test! Are you bored of playing the same games over and over again and want to try something different? Then we have the perfect game for you! And the good thing is, you don't have to buy the pool table to play. We've got it all figured out! Are you ready to play the most wholesome pool match ever?
Pool is one of the most popular sports ever and thousands of people play it! Wouldn't it be cool to play this game with people from all over the world? Yeah, we thought so too. Your objective is to pot all of your balls and then the 8 ball to win. You or your opponent will start the game by doing the first strike. After this, both of you will try to pocket all the assigned balls. There are two different ball types: stripes and solids. If you are "stripes" you have to pot all the striped balls. Don't pocket one of your opponent's balls or it will be a foul and they'll get the points. You need to work out the angles and find the balls that are easy to strike. Even if you're a rookie it's okay. Here, we welcome you with open arms and we'll do our best to teach you. All you have to do is click the left mouse button to control your cue. Then simply drag the mouse and release to shoot.
Oh, so you challenge us to another game? Bring it on. Play The Bowling Club now and let's see if you're good at bowling too!
Release Date
November, 2017.
Features
Multiplayer gameplay
Achievement page
Nice graphics
Intuitive controls
Controls
Use your mouse to play this game.