Play Now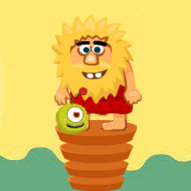 Adam and Eve: Aliens will take you to an extraterrestrial planet, where the only earthling is our good old brave caveman, Adam. We don't know how he ended up here, but he needs your help once more. Are you ready for an adventure in this strange world filled with strange characters?
Erupting volcanoes, hungry dinosaurs, aggressive cavemen, and other dangers of the stone age are left behind! Adam found himself in a world filled with aliens and advanced tech, but he prefers his stone tools and simple life back on Earth! Your objective in this game is to complete each level by removing any obstacles on Adam's way. You can use your mouse to play the game, and there are 13 different levels to complete. Just like in the other games of this series, you have to click on the different items in each level to find a way to remove what's blocking the way. Sometimes you'll have to open doors or get rid of various enemies on your way. Click on each item you see, as you'll never know what you'll find. When you think you've cleared the way, click on Adam. If he shrugs, it means there's still something on his way. Good luck and have fun!
For other games of this series, and many other similar ones, be sure to check our collection of free and online puzzle games. Enjoy!
Developer
Functu developed this game.
Release Date
October 19, 2020
Features
Colorful 2D graphics
13 different levels to complete
Entertaining and addictive gameplay
An alien planet to travel through
Controls
You can play this game with your mouse.