Adam and Eve: Cut the Ropes
Play Now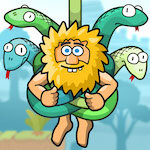 In Adam and Eve: Cut the Ropes, our adventurous caveman got tied up with snakes, and he needs your help to reunite with his wife, Eve. The forest is a dangerous place, and Adam knows it, but a single miss-step is enough to place him in danger. Can you rescue him from the snakes and take him to safety?
Your objective in this game is to pass each level by reuniting Adm with his wife Eve by freeing him from the snakes tying him. Dealing with venomous snakes would be hard in real life, but the controls of this game are pretty simple. To play, all you need is your mouse. Click on the play button on the main menu to start the game. On the next screen, you can select a level to play, but in the beginning, only the first level of the first zone is available. There is a total of 60 levels though 5 zones, so get ready for a long journey. Click and drag your mouse through the snakes to make them release Adam. You can complete a level by making Adam fall next to Eve. If he leaves the screen either by falling down or flying away, you'll lose, and have to start again. Good luck playing!
To play more games of this series or to try other ones, you can visit our collection page of free online puzzle games by clicking here. Enjoy your time here!
Developer
Functu developed Adam and Eve: Cut the Ropes.
Release Date
April 30, 2019
Features
Colorful 2D graphics
5 different zones to complete
60 entertaining levels
Intuitive controls
Controls
To play this game, you can use your mouse.