Play Now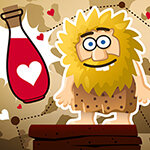 In Adam and Eve: Love Quest, get ready to join lovestruck Adam for another adventure yet again! All is fair in love and war! Everybody knows that! Love can make you do anything, and Adam is no exception to that! That's why he has made the perfect love potion, but he may have a teensy-weensy problem. He has lost it. We mean the love potion. But everything depends on it. Can you help him retrieve it?
Our hero is a lover, not a fighter. And he can't live without his Eve. So, he needs a potion to make Eve fall in love with him. Yeah, talk about desperation! Your objective is to complete all the levels and navigate your way through the challenges. Solve the puzzles in each level and clear his path so Adam can continue his quest! You'll travel the world, face hungry animals, help other animals, and also receive their help. You'll visit Egypt, befriend mummies and crazy scientists, help other cavemen discover fire, witness the ritual of an ancient tribe, and face the Yeti. No no! Don't be scared! There's a solution to everything, and it's your job to find it. Use your mouse to move the objects and find a key. The keys will open locked doors and help you along the way. Do you think you'll be able to find the love potion? You know he can't survive without love!
Adam may have found the potion now, but he still needs your help in other adventures! Check out our online and free puzzle games by clicking here, and find exciting games like this one!
Developer
Developed by Functu.
Release Date
March, 2018.
Features
Intuitive controls
Entertaining gameplay
Many levels to complete
A love potion to find
Controls
Use your mouse to play this game.