Play Now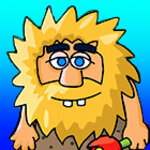 In Adam and Eve, help Adam reach his beloved Eve in the Garden of Eden! Despite the dangers that await him on his journey and the challenges that he has to face, nothing can come between two lovers who are willing to risk it all for love! After all, love knows no distance, right? So, get ready to join Adam on this thrilling adventure, if you have what it takes!
We are in prehistoric times now and the world around you is more dangerous than ever! Are you ready to face dinosaurs, man-eating plants, crocodiles, cavemen, and other dangerous enemies that are ready to take you down? Your objective is to reach the Garden of Eden to give your beautiful red rose to Eve to win her heart. But to do that you have to overcome each trap and difficult obstacle that you face on your journey! Use your left mouse to overcome threats and solve the puzzles. You may need to feed hungry dinosaurs, receive help from other animals, and also scare some of them to keep moving forward on your journey! Stand on plates to pass the obstacles and use the keys to open locked doors. Join Adam on this exciting adventure and help him reach paradise!
If you enjoy Adam's adventurous journey, then click here to check our category page and have a look at our other adventure games!
Developer
Functu developed Adam and Eve.
Features
Colorful 2D graphics
Entertaining gameplay
Intuitive controls
Multiple levels to complete
Controls
You can use your mouse to play this game.