Play Now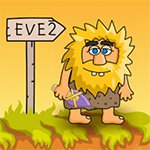 In Adam and Eve 2, our adventurous and brave caveman found himself imprisoned by a woman he doesn't love. Help him escape from her and find real-life through puzzle-filled challenging and fun levels. Are you ready to embrace the dangers of the prehistoric era as you try to figure out how to clear the way for Adam?
Adam is a free-spirited man and none can hold him captive! He needs your help in this second title of the popular series. Just like the other games, you'll have to complete various challenging levels in this game. Each level has a different puzzle that you need to solve. You can play the game with your mouse so click on the play button to start. Click on the different objects and characters to see if something will happen. Push the buttons and pull the levers to activate them. You have to use the different objects in each level in a specific order to clear the path. For example, you have to remove a snake to make birds land on a platform to clear the path. With trial and error, you can remove every obstacle on your way. Don't forget to click on Adam to make him move once you think the path is clear.
Join this caveman on his next journey in the third game of the series Adam and Eve 3, by clicking here. Have fun!
Developer
Functu developed Adam and Eve 2.
Release Date
October 4, 2017
Features
Colorful 2D graphics
Multiple challenging levels
Fun puzzles to solve
Intuitive controls
Entertaining gameplay
Controls
You can use your mouse to play this game.