Play Now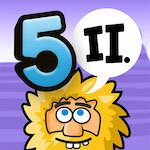 In Adam and Eve 5: Part 2, the adventure continues from where you left in the first part of the 5th installment of the fun series. Join Adam on his journey, and help him through all the levels. Can you solve the puzzles and remove the obstacles on his way?
Living in the prehistoric times, Adam has to deal with many different dangers. Dinosaurs, hungry animals, and even aggressive cavemen are just a few of the troubles he has to deal with. The objective of this game is to help Adam through these challenges to complete all the levels. You can play the game with your mouse, so click on the play button on the main menu to start. To pass a level, you should use different items in it to clear the way. To open a locked door, you should find the key. To get past a hungry dinosaur, you should feed it. When you think you've done everything and the path is clear, click on Adam so he can move. If he shrugs, this means you still have an obstacle on the way. Look around and try to solve the issue and try again. Show this brave caveman that with you on his side, none of the threats of this ancient world could stop him from reaching his destination. Enjoy!
Looking for another challenge? Then go ahead and browse our collection of free and online puzzle games for more! Have fun!
Developer
Functu developed Adam and Eve 5: Part 2.
Features
Colorful 2D graphics
Intuitive controls
Multiple puzzle-filled levels
Entertaining gameplay
Controls
You can play this game with your mouse.