Play Now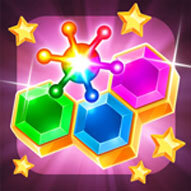 Amazing Sticky Hex is here to stretch your mind. Wonder into the colorful and challenging world of hexagon puzzles and discover the limits of your problem-solving skills. Featuring nice 2D graphics and engaging gameplay, this game will make you want to keep playing for hours on end. Now, the question you should ask yourself is, can you finish all the levels in this game?
Are you getting bored playing the same puzzle games over and over again? Are you looking for a new intriguing puzzle game that will give your brain a workout and challenge you so hard that you will feel the steam coming out of your head? Then here's the perfect game for you. In this game, your objective is to complete each level by filling the board with gems. On the right side of the screen, you can see at least two indicators in different colors. What you need to do is pick one of these indicators and drag it to the board. You need to find the perfect spot for each indicator to fill the entire board with gems. Each indicator will fill in different directions, so check out their arm and think of the possible moves you can make before placing it on the board. Put the indicators in the right order to complete each level. If you are feeling stuck, you can always click on the hint button. Have fun playing!
If you want to play more games like this one, you can check out our collection of online puzzle games by clicking here. Enjoy!
Developer
Amazing Hedgehog developed Amazing Sticky Hex.
Release Date
June 02, 2021
Features
Many challenging levels to complete
Colorful 2D graphics
Intuitive controls
Fun and addictive gameplay
Controls
You can use your mouse to play this game.