Play Now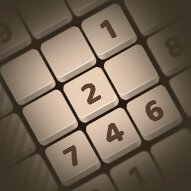 With Amazing Sudoku, get ready to train your brain with ultimate fun! It has been never this much easy to play this challenging puzzle game. Determine the difficulty level, click on the tiles and enjoy this adventure! You've got everything that you need to complete the board in here. Unlimited hints, undos, and drafts are waiting for you! So what are you waiting for to click on the play button and start the game already?
As you can understand from the game title, this Sudoku is so AMAZING! Sudoku is originally a logic-based, number-placement puzzle game. In a classic version like this one, the ultimate objective is to fill a grid with numbers so that each column, each row, and each of the nine sub grids that create the grid contains all the numbers from 1 to 9. When you complete the whole board you win the game. From the left side of the game screen, you can select or change the current difficulty level. If you are a beginner, take it easy and start with the easy mode. Under the difficulty level selection, you can find the "hint", "undo", and "draft" buttons which will help you to complete the board. You can use them any time you want. If you want to add more challenge to the game, you can make a time limit and try to complete before the time runs out. Good luck and have fun!
Have you checked another amazing Sudoku adventure that Microsoft developed? If not, then be sure to check Microsoft Sudoku by clicking here.
Developer
Amazing Hedgehog developed this game.
Release Date
June 9, 2021
Features
3D colorful graphics
Different difficulty levels to choose
Simple controls
Fun and engaging gameplay
Controls
You can use your mouse or finger to play this game.