Play Now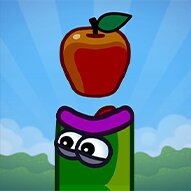 Help a cute grumpy worm fill his stomach with Apple Worm! Solve the platform puzzles to swallow a juicy red apple whole and make it to the black hole to pass to the next level! Use everything the game gives you, try every option, and feel enlightenment with each discovery!
This wiggly green dude is hungry all the time, and the cold days are coming. He needs to fill his belly and stock some food for the next winter. Let's help him find his way through these levels and make it to the spring! As going to the grocery around the corner is not an option for most worms, we must follow him through the moist ground, climb up the dirt blocks, and follow our instincts to find the next apple. Avoid the moves that might turn the worm upside down or get him stuck between blocks. You can plan your moves before starting the level or just go with it and learn from your mistakes. Push the stone blocks to fill spaces and get closer to your goals. Help him through all thirty puzzling levels to collect the food he needs! Have fun!
If you like this cute puzzle, you can check out our other Puzzle Games and find similar challenges!
Developer
Gibton developed Apple Worm.
Release Date
January 21, 2021
Features
A cute worm as the hero
Simple and fun theme
Easy controls
30 levels of puzzles
Available on mobile devices
Controls
Use "W, A, S, D" or the arrow keys to move, and "R" to restart the level.